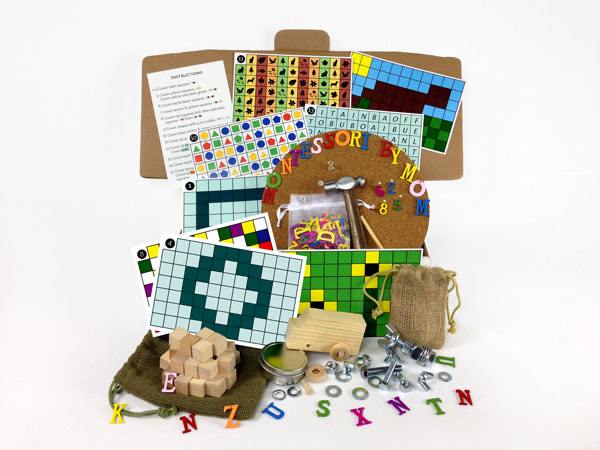 This Toolbox is packed with activities straight from the Montessori classroom: practical life, sensorial, and language. Your child will love making their own car and working with real tools.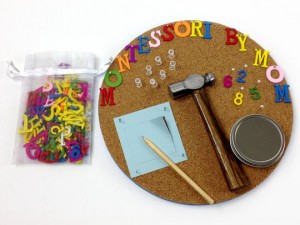 This cork board set is extremely versatile, with dozens of uses. Your child will have hours and hours of creative fun! Hammering is a standard activity in the Montessori classroom, which can be combined with letters and numbers printable. Younger children can work on motor skills with the two different styles of pins.
Paper punching is also a standard Montessori activity. Using our wooden paper punch, your child will have fun punching out shapes. We provide simple, complex, and themed designs, so it seems like a new activity each time. Not only is the paper punch a great preparation for writing, but it is one of the best ways to develop concentration. (Similar sets sell for $30-$40!)
Block Patterns and "Made By Me"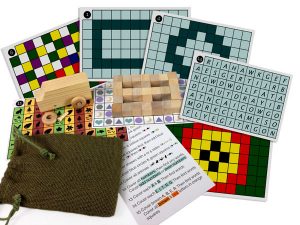 The Montessori By Mom Block Pattern Cards will grow with your child. They start with simple exercises of matching block to colored squares. Then, your child will be challenged with pictures, colors, shapes, numbers, and letters. Each card has a fun shape to discover. There are hidden words and even a few surprises!
The "Made By Me" kit allows your child to decorate and build their own truck.
Our Nuts and Bolts Set comes with 4 different sized bolts (1 in, 1.5 in, 2 in, & 2.5 in) and matching washers and nuts. Younger children will enjoy the challenge of removing the bolts. Older children can put them together and sort by size and type. They can develop their senses by trying to guess the shapes by touch alone. Your child will want to come back to these over and over!
Toolbox Balance – Building and Blocks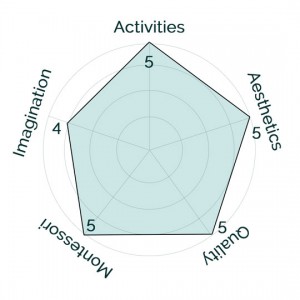 Each Toolbox is carefully planned to contain a balanced blend of important qualities. Building and Blocks is:
Quality: Durable, professional grade, or name brand
Activities: Many activities, levels of difficulty, and uses
Aesthetics: Provides children with an experience of beauty or use natural materials
Montessori: Includes official materials, traditional activities, and faithful to general principles (AMS)
Imagination: Activities and theme encourage the imagination
Read more about our Toolbox Design Philosophy
Montessori Materials
Montessori is unique because it stays as close to real life as possible. Materials are carefully selected to be natural, and the items a child uses are usually real or a miniature version of a real item. That is why a Montessori classroom will use a real hammer, wood and glass materials, or objects that are not blunt. Teachers are trained to help children handle these items with care and learn to use them properly. Many toy companies and retailers sell plastic versions that don't accurately represent the items they are modeled after and don't teach children care for materials and their environment.
Your child's safety is our number one concern. The items included in this Toolbox (hammer, nuts & bolts, paper puncher, pins, etc) are used in a Montessori classrooms regularly with careful adult supervision, but also in a way that fosters the child's autonomy. Parents are the only ones who can decide if their child is ready for these materials and ensure they are used correctly.
Subscribe to Receive a Toolbox Each Month!
Focus on having fun and teaching your kids, not wasting time doing research and creating materials. Subscribers receive FREE shipping on a new Toolbox each Month.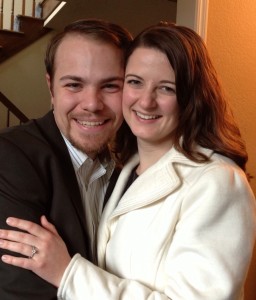 We are excited to share this Toolbox with
you, and hope your kids will love it!
– Nathan & Teresa Hadsall