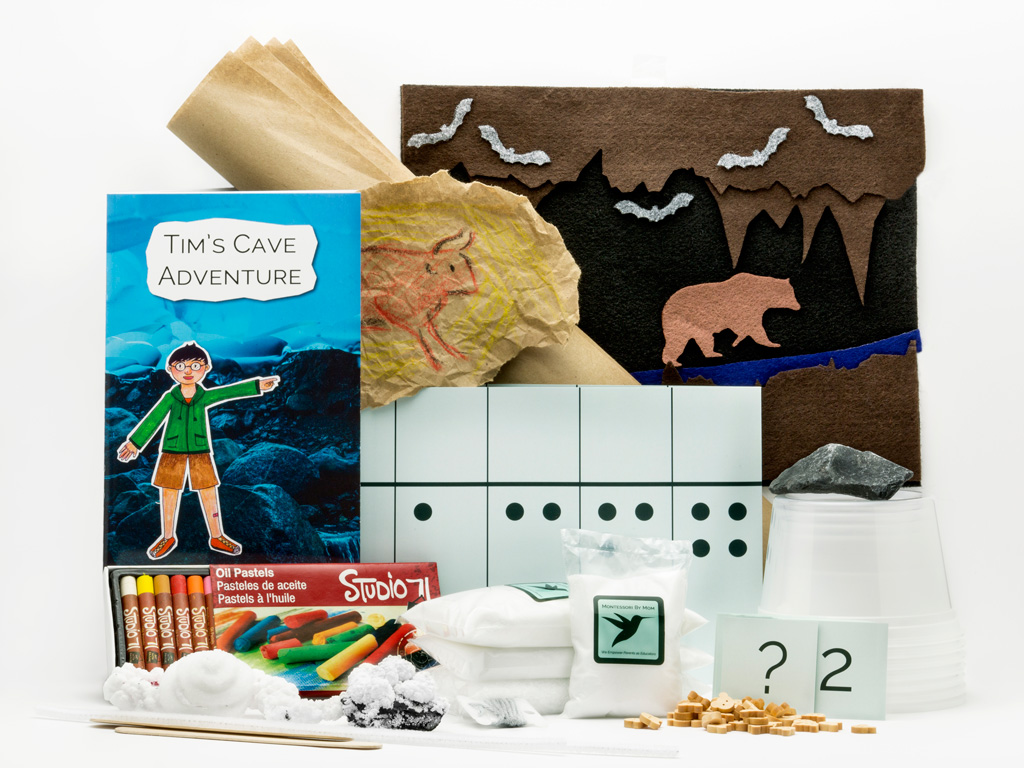 Our new character, Tim, will lead your child an amazing adventure! With this Montessori Toolbox, they will learn the difference between caves and caverns, as well as: how caves are formed, the animals that live there, the different types, and cave art. We have made the most complete crystal growing kit available, as well as an extremely versatile Montessori inspired math tool. Our activity guide and online video training provide dozens of activities for hours and hours of Montessori learning.
Tim's Cave Adventure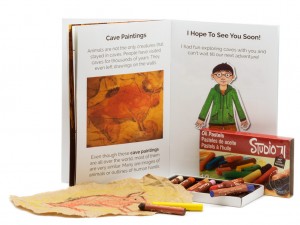 In our 32 page book, Tim will be your child's guide as they explore some of the most beautiful and amazing formations in the world. We wanted to include a kid's cave book with beautiful pictures, but couldn't find any. So, we decided to publish our own with the help of Montessori illustrator\author, Pauline Meert.
We included a set of high quality pastels and 4 huge "cave papers" (18″ x 24″) so your child can draw their own cave art. The online resources page includes examples of cave art from around the world.
Crystal Growing Kit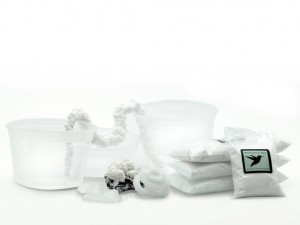 Montessori By Mom has created the most comprehensive crystal growing experience available. Your child will be able to grow 5 different types of crystals! Similar sets sell for $50-$80 alone.
Each type of the crystal looks and grows differently. The dolomite rock bubbles in a vinegar bath and then forms beautiful aragonite crystals. Your child will also make fast growing needle-like ice crystals, amazing diamond-like gems, rock crystals in any shape, and cubed crystal formations.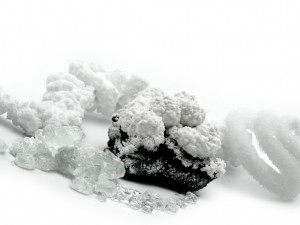 Some of the crystals will appear in a couple hours, while others will slowly grow over a few weeks. This provides instant results as well as a delayed experience to help build patience and learn how cave formations grow over time. The chemicals provided are all safe for young children (however, they should still not be ingested). Only 4 of the crystals are pictured, because the ice crystals need to stay refrigerated to keep their shape.
Cave Themed Montessori Math Tool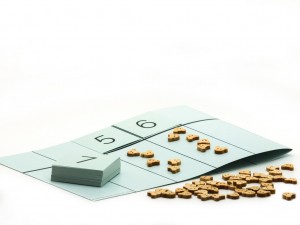 We created an amazingly versatile Montessori inspired math tool.
The set includes cave themed bear counters, number cards, and a control chart. With these tools you can introduce simple concepts like one-to-one correspondence, more advanced concepts like skip counting, and even help your child prepare for algebra by intuitively understanding the underlying process.
One side of the board has dots for younger children and the other side is blank. There are 45 bear counters so your child can count out 1 to 9 at the same time (and a few extra in case any get lost). The number card set contains 5 of each numbers, as well as symbols for addition, subtraction, and equals.
Cave Felt Scene

The felt scene will provide hours of fun!
All the felt pieces are pre-cut so there is no preparation.
Your child will learn about cave formations, and also develop motor skills as they compose their own cave scene.
Each Toolbox is carefully planned to contain a balanced blend of important qualities.
Caves and Caverns is: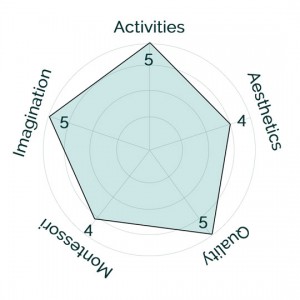 Quality: Materials are durable, professional grade, or name brand
Activities: Includes many activities, levels of difficulty, and uses
Aesthetics: Generally experience beauty or natural materials
Montessori: Activities mostly follow AMS guidelines
Imagination: Activities transport the imagination to encourage active, child-led learning
Read more about our Toolbox Design Philosophy
 Subscribe to Receive a Toolbox Each Month!
Focus on having fun and teaching your kids, not wasting time doing research and creating materials. Subscribers receive FREE shipping on a new Toolbox each Month.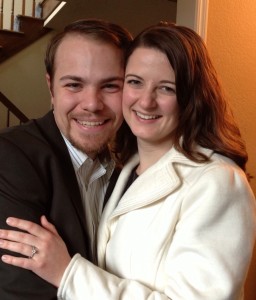 We are excited to share this Toolbox with
you, and hope your kids will love it!
– Nathan & Teresa Hadsall