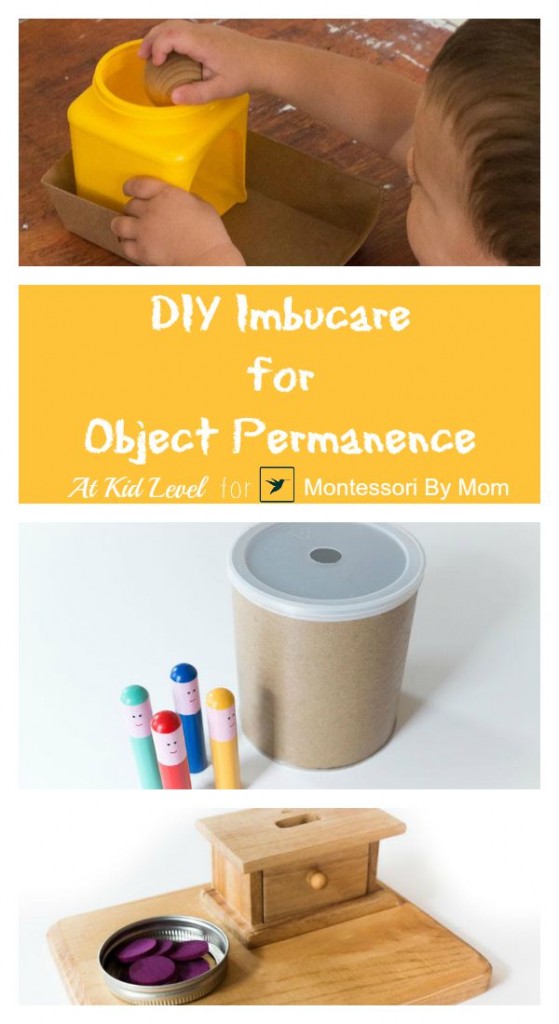 DIY Imbucare
If you're a parent to an older infant or young toddler, you may have noticed a newfound discovery of object permanence. Before six months or so, babies haven't yet realized that something continues to exist when it leaves their line of vision. If an object is out of sight, it is out of mind. After a while, though, the child slowly begins to understand. The game of peek-a-boo changes when a baby starts searching for her father's hidden face. When she is placed in her bed for a nap, she may cry because she knows her mother is somewhere else instead of with her! And if she drops a ball into one hole of a box and it rolls out of a different hole, she is transfixed.
The object permanence box is a traditional Montessori material that is designed to foster the concept of object permanence. Subsequent boxes, sometimes classified as imbucare activities (imbucare is the Italian word for "to post (as in a letter)", offer more complicated tasks, and include different objects (cylinders, cubes, prisms, and coins) and openings (hinged doors, drawers, sliding doors, and lids). The underlying concept of object permanence, however, stays the same: the child places an object into an opening, and it reappears somewhere else. Pure magic! There are many different imbucare boxes available for purchase, but it's also quite simple to put together your own. I made three for my son, W, who is 13 months old.
Here's how they came out: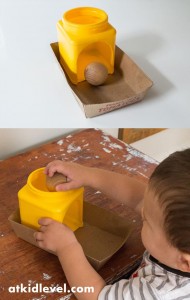 This is my take on the classic object permanence box. I cut an arch into the side of a cornstarch container and hot glued it to a cardboard produce tray. I used a wooden ball because that's what I had, but a ping-pong ball (or any other ball of a similar size) would work too.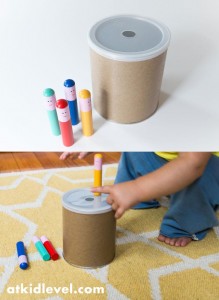 This activity is made from a formula can and some peg people that came with another toy. I removed the label from the can, covered it with kraft paper (using Mod Podge to seal everything up), and cut a hole in the lid. I had to model how to take the lid off of the can to get the peg people out, but W quickly caught on and now this is a big hit. I love the formula can because it's very easy to make different lids and change them out – I've also cut holes for large coins and cube blocks.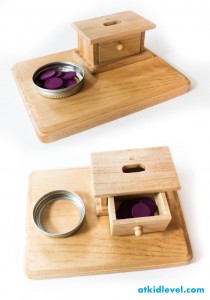 Here is my version of a coin box. I made it on a much smaller scale and the coins could pose a choking hazard, so I'll wait to introduce it to W until he stops putting objects in his mouth. To make this activity, I glued together a small wooden box and a wooden plaque (both purchased at a local craft store). I cut the hole in the top of the box using a dremel tool. The coins were also purchased at a craft store. I love this activity because it's sized so nicely for small hands, and the act of opening the drawer to find the coins is a real point of interest.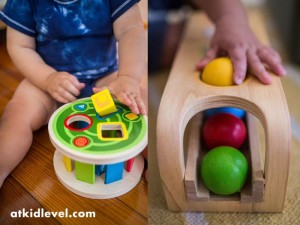 After making all of these imbucare-inspired activities, I realized that some of our other toys and materials foster the same skills and concepts. Shape sorters, ball pounders, piggy banks, and even opening and closing activities (just place a special object inside each container) are all great examples – and things you might have around your house already.
Does your child own any object permanence or imbucare activities (either purchased or handmade?). I would love to hear about and see your ideas in the comments below!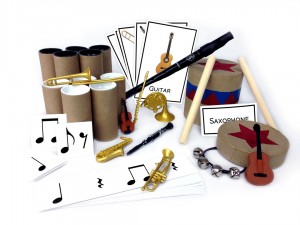 Subscribe to Receive a Toolbox Each Month!
Focus on having fun and teaching your kids, not wasting time doing research and creating materials. Subscribers receive FREE shipping on a new Toolbox each Month.
Did We Mention Our Unconditional Guarantee?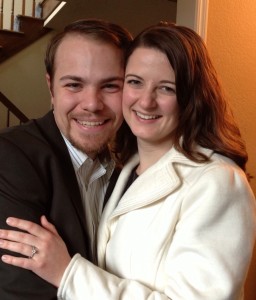 We don't think you will ever be dissatisfied with a box, but if you are, we have an unconditional money back guarantee. Unhappy with a box? Let us know within 14 days and we will give you a full refund, no questions asked. You have nothing to lose!
– Nathan & Teresa Hadsall