DIY Seashell Counting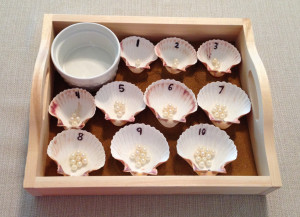 We want to begin posting a few Montessori inspired Do-It-Yourself activities on our blog. This Seashell Counting activity is one of my favorites, and it goes well with our first Toolbox.
I got the idea from another blogger and wanted to do it myself. It turned out to be a bit more expensive than I had anticipated, but sure is beautiful!
1. Get The Materials
2. Wash Shells
When I began putting this all together, I discovered that the shells weren't clean so I washed them in warm, soapy water. I let them air-dry, but then wiped them down as well to make sure they were completely dry. Using a marker won't work if they are wet.
3. Pour Sand and Place Container in Tray
I poured about 1 1/2 lbs of sand into the tray. I wanted to use a lot because of how neat it looked and felt, although you could probably use a little bit less. I put the pearls and container in the tray at this point. It's starting to look cool!
4. Sort by Size and Prearrange in Tray 
Because these are real seashells, they do vary slightly in size. I used the smaller ones first and had them increasing in size as the numbers did. It helped to sort through them and make sure they fit in the tray before writing on them and discovering that it wouldn't work.
5. Write the Numbers on the Shells
This was by far the hardest part of the whole experience. I started off using a regular sharpie, and ended up switching to a ultra-fine tip sharpie instead. The shells have ridges, so it was hard to be precise with the big, clunky regular sharpie.
I removed the shells one at a time and put them back in their place so that I wouldn't forget which one was which.
I decided to write the numbers at the top of the shells so that you could still read the number when they were full.
6. Ready to Use!
When I was finished writing the numbers on the shells, it was ready to use! I always like to try out the activities I create before I put them on the shelf, so here they are after I counted them out. It was so much fun!
 So, How Much Did It Cost?
 Wooden Tray from Amazon:  $8.99
Pearl Beads from Amazon: $4.35
Colored sand 2 1 lb bags: $12.82 (yikes!)
Yellow Cup Shells  from Hobby Lobby: $7.98 (I only found them in packages of 6, so I had to get 2)
Ramekin (I already had one, so I didn't count that in the cost of the materials)
Total cost: $34.14
Wow, that was a lot more expensive than I thought it was going to be! But, there are probably some ways you could cut corners a bit. If you have a plastic tub or tray, you could use that instead of the wooden tray. Having a lot of sand is nice, but it would probably work just as well with 1 lb of sand as it does with 1 1/2 lbs.
Besides the shock of the price, the activity really is fantastic and can be used many times over. 
I'd love to see pictures of your DIY projects, so please feel free to share. We may even feature them on our blog!
– Teresa Hadsall
By the way, original credit for the idea goes to Rockabye Butterfly.