Want to know a SECRET? Montessori By Mom custom designs all the Montessori activities in each toolbox! As a part of the 15 Days of Montessori for the Holidays blog hop, we want to let you in on the secret and give you the tools to make your own Montessori inspired Christmas activity.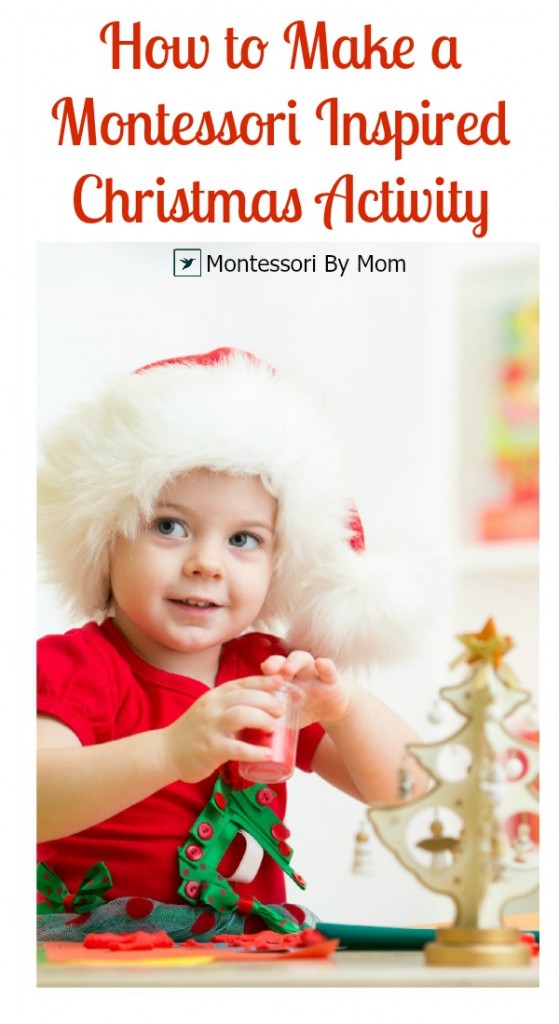 The very core of Montessori By Mom is empowering parents as educators. What better way then to share with you how to bring Montessori into your home for the Christmas season!
Today we want to share with you our secret steps in designing Montessori inspired activities in hopes that you can bring these steps into your home.
Step 1
The first step is to choose a theme. Picking a theme can be as easy as the current season or an interest of your child like space. For this post we are going to choose a Christmas theme.
Step 2
Now that we have our Christmas theme, we want to look around the classroom or home and find any items related to that theme that can be turned into an activity. For example, using tiny ornaments for counting or using tree shaped dishes for Montessori work.
You may find inspiration walking around your local dollar store! Dollar stores provide  affordable Christmas themed baskets, garland, or spoons that may be used to make a Montessori inspired Christmas activity at a very low cost.
Step 3
Don't forget your traditional Montessori activities! You may find you can change out your spindles for cinnamon sticks or add Christmas poems to reading time. You may like to add a poinsettia to your classroom to care for or study the different parts of a holly tree.
Step 4
Montessori style learning is already in our everyday lives, you just have to know what to look for! Do you bake cookies for Christmas? Holiday baking is full of scooping, pouring, reading, and science! Ask your child to help make cookies. Watch as they are enthused at their own ability to scoop teaspoons of baking soda or pour in a half cup of molasses into your gingerbread dough!
While you decorate the Christmas tree, ask your child to help hang the ornaments or carefully unwrap the carolers. This fine motor movement will strengthen their hands for better pencil grip and fine tune their hand eye coordination.
Wrapping gifts can be a wonderful lesson in grace and courtesy. You can also discuss the history of giving presents.
Need Some Ideas?
Here are a couple fun posts that will help you on your way to a great Montessori inspired Christmas activity!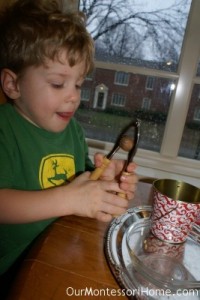 Cracking Nuts ~ Our Montessori Home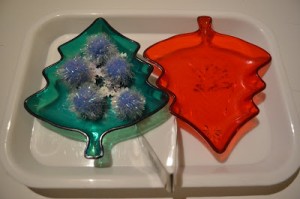 December Montessori Fun ~ Education of Ours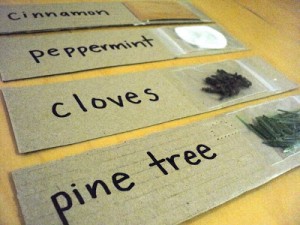 10 Scents of Christmas – Sensory Cards ~ A Little Learning for Two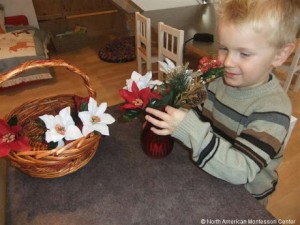 Special Holiday and Winter Themed Montessori Activities for Your Classroom ~ NAMC's Montessori Teach Training Blog
We hope these steps will encourage you to find Montessori inspiration in your everyday life and bring the joys of Montessori to your Christmas season!
15 Days of Montessori for the Holidays Blog Hop
We are excited to join many wonderful Montessori bloggers in the 15 Days of Montessori for the Holidays blog hop.  This blog hop runs from October 25th through November 10th. Please be sure to check out all the participating blogs listed below and follow the host, Montessori Bloggers Network, on Pinterest for all the updated posts!
Check out the next post tomorrow on When Hippos Talk.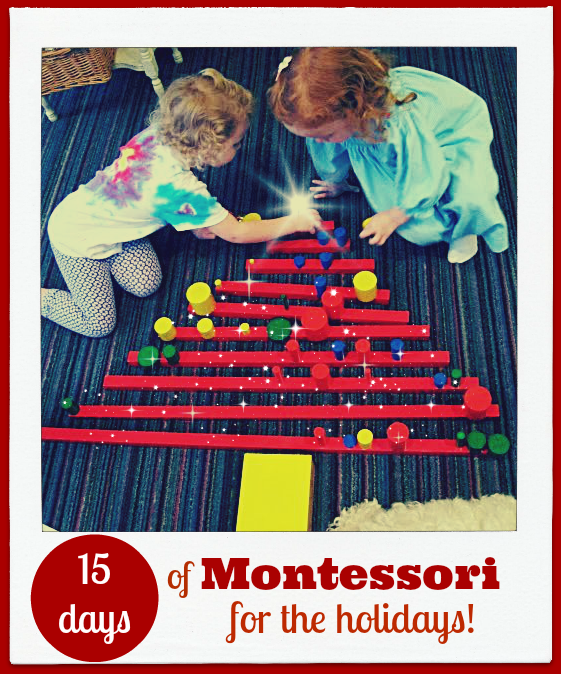 Photo Credit to Montessori Messy
The Montessori Notebook ~ Montessori By Mom
When Hippos Talk ~ Little Fingers at Work ~ At Kid Level
Magical Movement Company ~ Christian Montessori Network
Montessori Unfiltered ~ Mama's Happy Hive ~ Montessori Nature
Welcome to Mommyhood ~ Our Montessori Home
I Believe in Montessori ~ Living Montessori Now
The Kavanaugh Report ~ The Natural Homeschool
Subscribe to Receive a Toolbox Each Month!
Focus on having fun and teaching your kids, not wasting time doing research and creating materials. Subscribers receive FREE shipping on a new Toolbox each Month.
Did We Mention Our Unconditional Guarantee?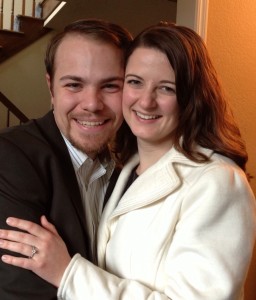 We don't think you will ever be dissatisfied with a Toolbox, but if you are, we have an unconditional money back guarantee. Unhappy with a Toolbox? Let us know within 14 days and we will give you a full refund, no questions asked. You have nothing to lose!
– Nathan & Teresa Hadsall