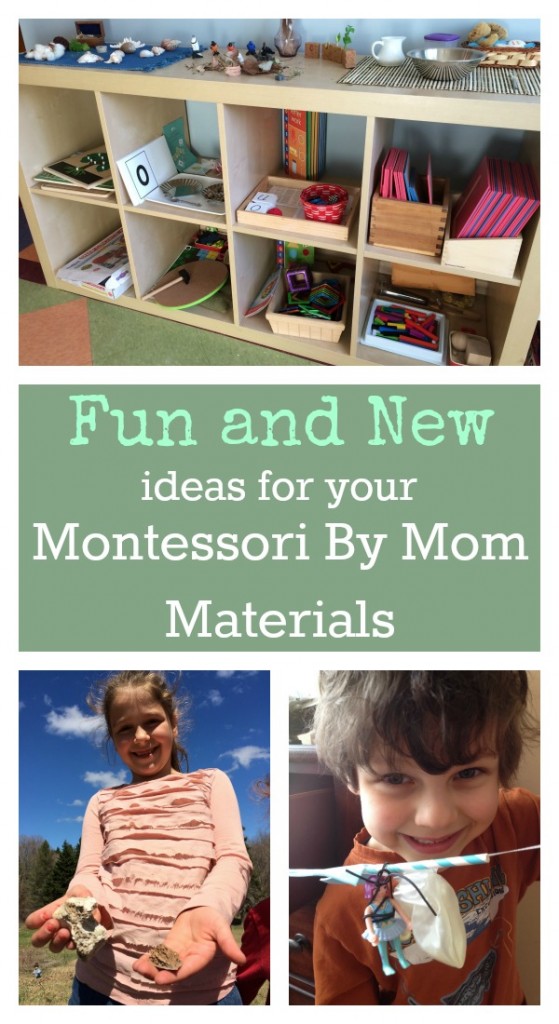 Every single Toolbox we have received from Montessori By Mom has been put to good use, over and over again. When a new Toolbox arrives in the mail, it lives on the kitchen counter for a few days (or however long it takes us to explore each of the activities at least once). Then it moves (usually as a unit) onto a low shelf in what we call the Work Room for my four-year-old daughter and her older brother and sister to use anytime they wish.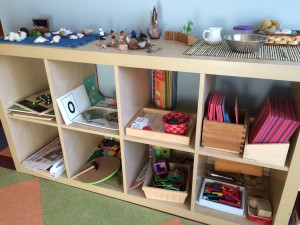 And these materials get used a lot—not only by the four-year-old, but also by the seven- and nine-year-olds! They get used over and over again for their original purposes, but like good tools, they also get put to new uses. So I thought I'd share some extension activities that have been inspired by our Montessori By Mom subscription and executed with the help of the high quality, sturdy materials.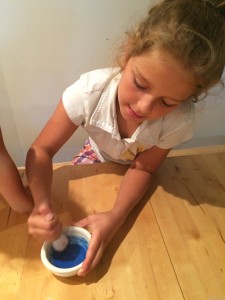 Art Appreciation: All three of my kids found grinding their own paint to be a really satisfying activity! We also loved playing with the strength of the colors. We recently put these materials to use again when we tried our hand at wet paper painting. This is a technique in which you wet the paper before painting on it with watercolors. You can use just one color in order to explore how the paint moves on the paper, or you can use several colors and paint one on top of another. We used the mortar and pestle to grind paint, and my son used the spray bottle from Helping Hands to wet everyone's papers.
Building and Blocks: Have you realized yet how valuable the little hammer included in this Toolbox is? It is the perfect size and weight for little hands. It's not a cheap, lightweight version that has little effect on what your child is pounding; and yet it's not so heavy that your child will quickly tire of it. My kids fight over this tool (and so I see extra ones being placed in stockings in the near future). Last week, we used it to hammer holes in tin cans to make lanterns. Fine motor skill work at its finest, and this quality hammer made it quite literally child's play.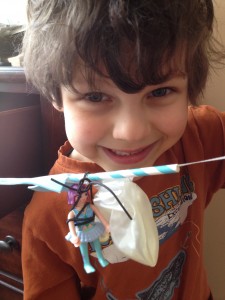 Land, Water, Air: Land, Water, Air is a toolbox that we will be using in this house for a long, long time. The Toolbox itself comes with so many learning activities, not to mention concepts that my kids still hadn't touched in school by Grade 2. Running the balloon and straw along the string was one of our favorites, and we expanded upon it by seeing what objects the straw could carry, either on the front or back, and how much we needed to inflate the balloon to make it work. Quite the series of science experiments and lots of laughs!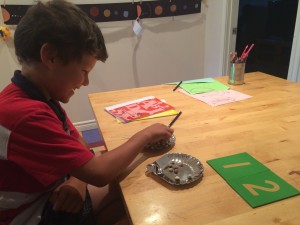 Shells and Starfish: This is the first Montessori By Mom toolbox we received, and we are still using it on a weekly basis. For months, my youngest was obsessed with the shells. She brought them down off the shelf and manipulated them daily, separating them into various categories and asking me to tell her time and time again about the animals that used to be inside them. When we received the Shoots and Sprouts Toolbox, it seemed obvious to add those nature items to the shells' mat and call that our nature table. But, living up north, shells aren't really our thing, and so we went in search of the nature in our forests. Since then, this Toolbox has inspired not only a nature table, but also one that changes with the seasons, and one to which we will add other nature items when we travel elsewhere.
We also use the sandpaper numbers every day. Since we passed up the number 9 some time ago, we now combine two tiles to make two-digit numbers. I compose a two-digit number at random, reveal it to my son, and he has to quickly recall the number in French! Having a physical number that he can touch and that can also be switched around (changing 12 to 21, for example) is helping solidify the notion of place value.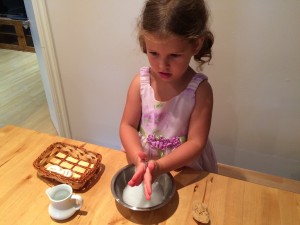 Helping Hands: Materials from this toolbox obviously come in handy for daily chores. My youngest makes a big production out of cleaning our work table after art projects, but she also uses the clothespins to hang up art on the clothesline and the little white pitcher is the perfect size for her to water our household plants and seedlings (from the Shoots and Sprouts Toolbox!)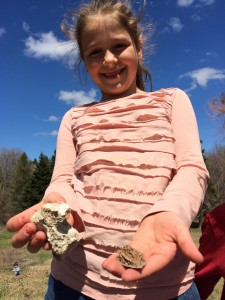 Do you have other ideas on how to repurpose materials from your Montessori By Mom toolboxes? Share them below in the comments!
Subscribe to Receive a Toolbox Each Month!
Focus on having fun and teaching your kids, not wasting time doing research and creating materials. Subscribers receive FREE shipping on a new Toolbox each Month.
Did We Mention Our Unconditional Guarantee?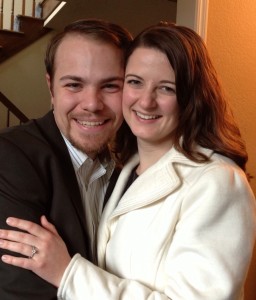 We don't think you will ever be dissatisfied with a Toolbox, but if you are, we have an unconditional money back guarantee. Unhappy with a Toolbox? Let us know within 14 days and we will give you a full refund, no questions asked. You have nothing to lose!
– Nathan & Teresa Hadsall