It's a pretty well-known fact that independence is a cornerstone in Montessori education. Dr. Montessori even said it herself: "Never help a child with a task at which he feels he can succeed." For a lot of parents, this idea can be challenging to put into practice at home. What exactly does a young child feel he can succeed at?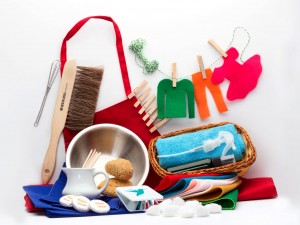 When parents ask me this question, dressing and undressing are some of the first suggestions I offer. Allowing and encouraging children to dress themselves boosts their self-perception, strengthens gross and fine motor control, and even helps with spatial reasoning … and, with consistency and practice, it can make busy mornings go much more smoothly! With the new school year just around the corner, here are a few tips to get you and your children started: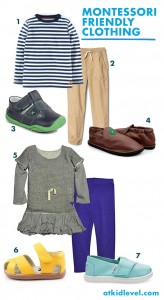 Clothing options for the child who is just starting to get dressed independently: 1. Boden 2. Gap  3. Pediped 4. Softstar Shoes 5. Burt's Bees Baby 6. See Kai Run 7. TOMS
5 Tips for Independent Dressing at Home
Offer limited choices.

There are so many different styles of children's clothing; some may not be suitable for the current season or day. Offer a few appropriate options for tops, bottoms, and shoes for your child to choose from. If you are concerned about colors and patterns clashing, stick to neutrals or mix-and-match styles.

Minimize frustration. For a child who is just starting independent dressing at home, put out clothes that are easy to put on. Loose tee shirts and elastic waist pants are great options. Save buttons, zippers, and snaps until your child is ready for the challenge. This is also a great time to introduce Montessori dressing frames!
Break down the task.

Think about all the steps it takes for you to put on a pair of pants. Keep this in mind when guiding your child to do the same. At first, she may need you to help her balance, scrunch up a pant leg, or start a zipper.

Avoid correcting.

If your child works for 15 minutes at putting on her shirt and it's backward, let it go. Her sense of pride is worth too much to point out what she did wrong! She may even realize her own mistake and fix it independently. If safety is an issue (for example, your child put his shoes on the wrong feet and could trip), then it's OK to gently point it out.

Allow plenty of time. When children are just learning a new skill, they need lots of practice before they can do it efficiently. If you're running behind one morning, expecting your child to get dressed quickly may not be realistic. Keep this in mind when planning your Montessori at home schedule.
Preparing the Environment
Here is an example of a dressing area for a young preschooler. Everything is laid out and ready for the child, much like any prepared environment. The chair offers a steady place to sit down and put on pants, a shirt, socks, and shoes. The mirror, brush, and cloth add another level of self-care awareness. The grey basket provides a place for dirty laundry.
Teaching a child to be self-sufficient can be a daunting task! There certainly is more upfront preparation, but it is absolutely worth the outcome of a confident, competent, independent child!