Montessori Bedrooms
The bedroom may be where we sleep, but it's more than just a room with a bed. It's a place to feel calm and comfortable. In Montessori, the bedroom is another opportunity for growth and learning. Maria Montessori believed in the importance of giving children freedom through an accessible environment. Your child's bedroom should be the room that most embodies this principle because it is a space just for them. A Montessori at home bedroom setup keeps your child's needs at the forefront.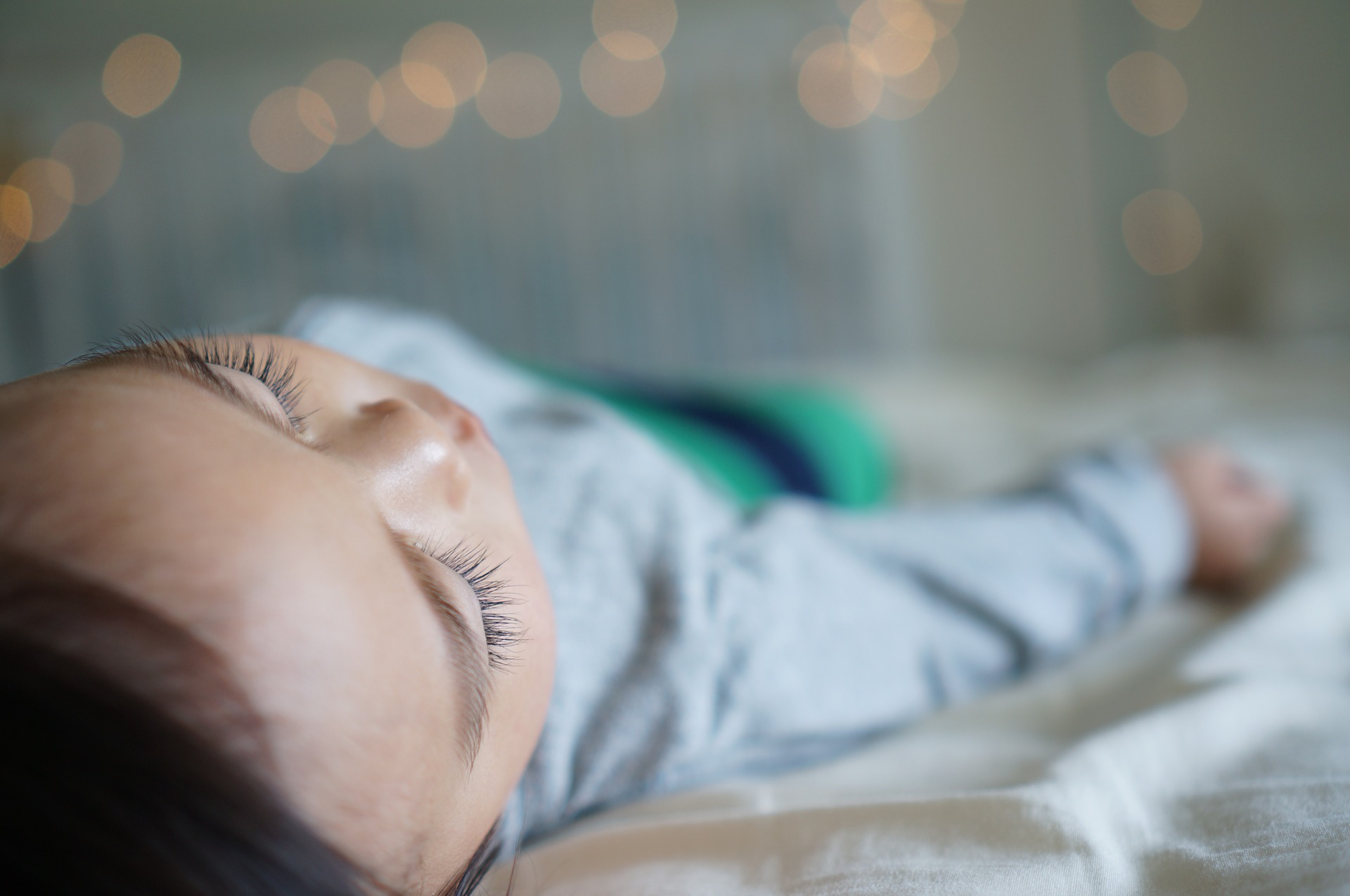 Traditional Bedroom Setup
A Montessori at home bedroom setup is different from the traditional children's bedroom. In a traditional bedroom setup, the child has to rely on an adult. The child cannot appreciate every aspect of their room on their own. For example, someone else needs to turn the light on for them, take the clothes out of the closet, or assist them into bed. A traditional children's bedroom is often filled with plastic materials and adorned with bright colors and busy prints. Shelves and surfaces may be out of the child's reach.
Making the change to a Montessori at home bedroom setup doesn't have to be complicated. Simplicity is key, and a few swaps can transform your child's room to be more accessible and inviting.
Montessori at Home Bedroom Setup
The Floor Bed
Let's start with the focus of the room, the bed. A traditional bedroom setup typically has a crib or bed with railings high off the floor. However, in a Montessori bedroom, the bed is low to the ground so the child can access it independently without risk of injury. Some families place the mattress directly on the floor. Montessori bedrooms tend to avoid high, restrictive bed railings, giving the child mobility and independence in their environment.
In addition to the physical freedom a floor bed provides, it also gives the child a better perspective. With a broad view of the room, children can better develop their spatial awareness. This is more difficult when crib bars or railings block their view. Everything in the room is within their sight and reach, which encourages exploration when they are awake.
Safety and the Floor Bed
Some Montessori families introduce their baby to a floor bed at just a few months of age. Others transition from a crib after their child is 12 months or older. Safety is a top priority. Whether you're using a floor bed or not, you should be aware of safe sleep guidelines that reduce the risk of SIDS. During the first year of life, the AAP recommends that babies sleep in a bare crib, bassinet, portable crib, or play yard that meets current CPSC standards.
When a baby or toddler of any age can get out of their bed independently, you should baby-proof the room. Anchoring furniture in the wall studs can prevent serious injury or death. Ensure outlets are covered. Electrical cables and blind strings should be removed or secured so the child cannot hurt themselves with them. Windows should be locked. The room should be regularly assessed for choking hazards.
Accessibility Is Key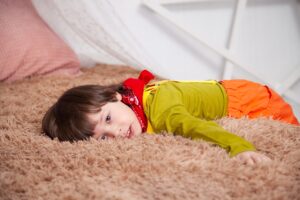 In a traditional bedroom setup, the child needs help from an adult to fully access the room. There are items out of reach or deemed unsafe to touch. In a Montessori at home bedroom setup, unsafe items are removed completely and the child can access everything in the room. Independence is prioritized in every aspect of the room, not just the floor bed. Assess the furniture in the room to make sure it serves your child. A comfortable, child-sized chair is a great place for reading. You can also create a reading nook with floor pillows. Montessori By Mom's reading book series is a perfect series for the bedroom.
The bedroom is also the place to get dressed. In a Montessori at home bedroom setup, the child has the opportunity to get dressed independently. The child can open and close their dresser drawers to access their clothes. You can also place cubbies on the ground for clothing. The closet may have a low rail to hang clothes within the child's reach. If the room contains a mirror, it should be at the child's height. The bedroom can also include a hairbrush, tissues, or anything that empowers the child to begin caring for themselves unassisted.
Keep It Simple
Less is more. In the bedroom, try to provide enough choices to inspire your child's learning without overwhelming them. Keeping just a few appropriate clothing options available makes it easier for your child to choose what to wear. Instead of a bookshelf filled with bins of books or toys, a small bin or a low shelf with a few will suffice. You can periodically rotate the materials in the bedroom based on your child's interests. This system also makes clean-up easier, which is something your child can assist with. Aim to keep the floor uncluttered to allow for open play and movement.
Decoration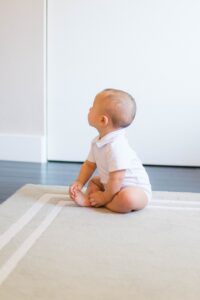 It can be tempting to design your child's bedroom in your own style, but decoration is another opportunity for your child to learn through their environment. You may have to compromise your own vision. For example, you may prefer a bright pink room with a flower theme. However, a Montessori bedroom setup favors decor your child is interested in. Walls may have pictures of family, nature, or animals to foster the child's curiosity. Montessori favors real-life photographs over cartoons. Any wall hangings should be at your child's eye level for them to enjoy. You can replace glass with plexiglass for younger children. Keep the decor to a minimum to avoid over-stimulating your child. Montessori bedrooms typically favor neutral shades that allow the child to relax and call more attention to the artwork and materials. Lighting should be warm and soft.
Sustainability and respect for all living things are two Montessori values. Therefore, materials should be natural when possible. Wood and wool are good examples. You can add depth by incorporating textured items like a knit blanket or wool rug. Consider incorporating a small, nontoxic plant that is easy to care for.
Adapting to Your Child's Changing Needs
After setting up a Montessori at home bedroom, you may need to make adjustments after observing your child. A core Montessori principle is to "follow the child." Watch for and anticipate your child's changing needs to adapt their room accordingly. Occasionally get down on their level to see how the room feels from their perspective.
A Montessori at home bedroom setup is designed to meet your child's needs and prioritizes their development, comfort, and accessibility. It's another place for your child to practice independence in a safe environment. When considering a Montessori at home bedroom setup, keep in mind that a small bedroom or limited budget can work just fine.