The Montessori Kitchen
The kitchen is the heart of the home. It's typically a place that brings families together, including children. The kitchen can and should be a place that lets children practice their independence and practical life skills. Although the kitchen presents some dangers to small children, like a hot stove or sharp knives, the solution isn't to make the kitchen completely off-limits. Instead, you can prepare your kitchen to become a place where your child can both stay safe and feel welcome. With the tips below, you can create a Montessori at home kitchen setup today!
Basics of a Montessori at Home Kitchen Setup
Accessibility is crucial in Montessori. Perhaps unlike some traditional homes, the Montessori home prioritizes keeping appropriate items within the child's reach. A Montessori-friendly kitchen invites the child to participate. However, countertops and tables tend to be too high for a child. Remodeling your kitchen isn't realistic, but there are feasible ways to make your kitchen more accessible to your child.
Before Starting a Montessori at Home Kitchen Setup
Freedom within limits is one of the basic principles of the Montessori method. We want the child to move freely without compromising safety. An accessible Montessori kitchen doesn't mean leaving your little one unsupervised with a drawer full of potentially dangerous kitchen utensils.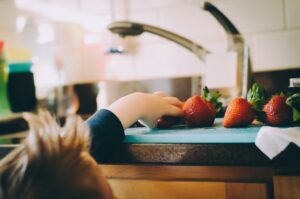 Small children and food preparation may seem like a recipe for disaster, but preparing the environment (including yourself) beforehand can help things run more smoothly. Realize that messes are bound to happen. Things may even get broken. If you have plates that are meaningful to you, for example, you can put them away until your child is older. Remember that children learn from mistakes. By letting them be involved in the kitchen, you are giving them more confidence and teaching independence. Seeing the look of pride on their face is worth the mess. Also, they can help you clean!
You should also prepare your environment for safety. Keep cleaning supplies, knives, electrical cables, and kitchen tools with button batteries out of the reach of children. You can store them high out of reach or add locks to your cabinets. When your stove is not in use, consider taking off the range knobs so your child doesn't accidentally turn on the burners. Cook using the back burners, and angle the handles of your pots and pans away from your child's reach. Closely supervise your child whenever you are using heat in the kitchen.
Furniture
Typically, Montessori classrooms include child-sized tables and chairs. However, in a Montessori at home environment, it's ideal for the child to sit together with the adults for family meals. A stool by their chair can help them get into their chair safely.
You can create a Montessori at home kitchen setup with items you already have. But one thing that may be worth purchasing is a Montessori stool, sometimes referred to as a learning tower or a kitchen helper. This allows the child to comfortably and safely reach the counter and engage in food preparation and other kitchen activities. If your space or budget doesn't allow room for a learning tower, a step stool can serve the same purpose.
Food Preparation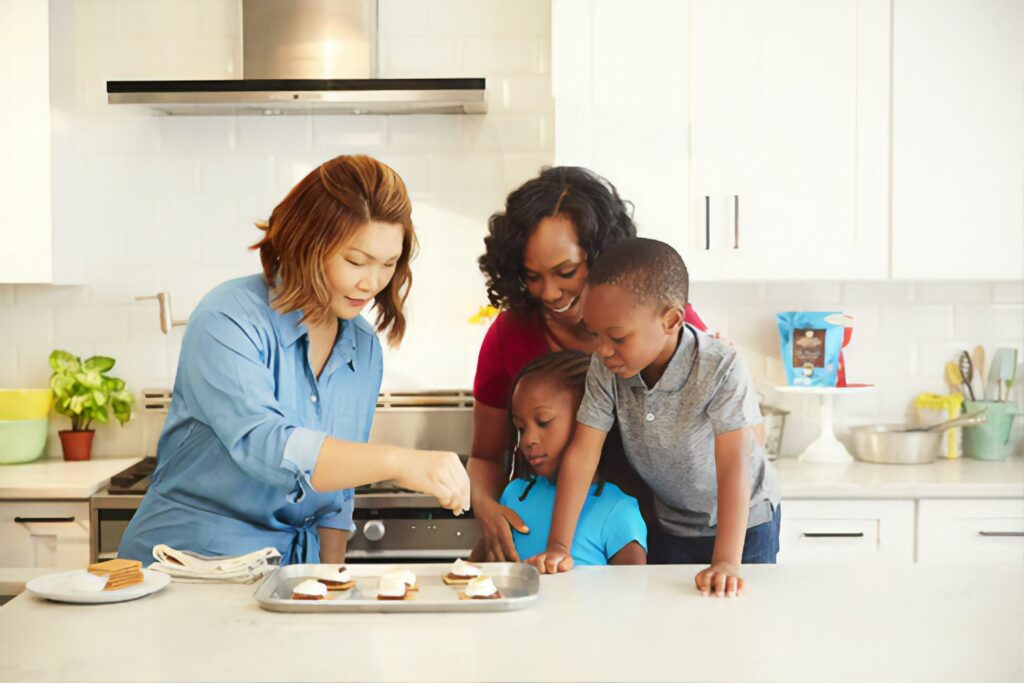 Instilling independence is central to the Montessori method. If you are always serving your child and waiting on them hand and foot, how are they to learn to do it themselves? Invite your child to help in the kitchen. You'll find that they enjoy it. You could start with something as simple as getting you a spoon or mixing in a bowl. Utensils are great for fine motor development. Whole foods like fruits and vegetables are easier for children to prepare. A bonus is that children are more likely to eat food they help prepare!
Kitchenware
Make sure there is at least one drawer or cabinet that your child can access. This cabinet should be equipped with everything a child needs to eat a meal. The plates, bowls, cups, and silverware should be smaller versions of what the adults use. Of course, this means your child will need guidance on how to properly handle breakable items. Using the same kitchenware as you will help them feel more included and teach them responsibility. If space allows, include enough dinnerware for each family member so your child can set the table.
Snacks
You may also consider designating a low refrigerator shelf or cabinet where snacks are stored so your child can access them independently. Providing nutritious food can help your child develop healthy eating habits. While your child will appreciate the freedom of accessing their own snacks, this doesn't mean you should leave them do so unsupervised. To minimize the risk of choking, young children should only eat under the direct supervision of an adult.
Cleaning
Yes, your kitchen will get messy from time to time. Ensure your child can access the (safe) things necessary for cleaning. Cleaning is an important practical life skill to work on. The Montessori by Mom Helping Hands Toolbox includes many child-sized tools to help children master practical life tasks.
Activities and a Montessori At Home Kitchen Setup
With a Montessori at home kitchen set-up, there are endless learning opportunities. Like all activities, what is appropriate for your child will depend on their developmental readiness. Always supervise your child during kitchen activities.
Here are some Montessori kitchen activity ideas. They are listed in order of difficulty:
Montessori kitchen activity ideas
Watching/observing you prepare food as you explain what you are doing
Washing fruits and vegetables
Mixing ingredients in a bowl
Spreading toppings on crackers or toast
Kneading dough
Pouring water into a cup from dispenser or jug
Setting the table
Peeling or slicing fruit
Sweeping the floor
Wiping counters
Drying dishes
Separate Kitchen Workspace
In addition to your actual kitchen, you can create a separate kitchen space for your child to play and learn. Present this kitchen to your child as an actual workspace rather than a toy for pretend play. The Montessori kitchen setup is a smaller version of the adult kitchen and uses real kitchen pieces instead of toy versions. Include a few utensils, glassware, and plates from your kitchen. The key is to make it as functional as possible.
Final Tips
Involving children in kitchen tasks does require some effort, preparation, and forethought by the adult. However, many Montessori families have found the benefits to be worth the effort. In the kitchen, children can learn invaluable practical life skills while contributing to their families and bonding with their parents. Just like all things Montessori, you don't have to strictly follow every Montessori guideline or replicate everything you see on Instagram to apply these principles. If these tips resonate with you, you can simply focus on incorporating what works for your family.
What's your experience been like working with your children in the kitchen? Be sure to let us know in the comments!