Montessori at Home Toys
In the age of online shopping, buying toys and children's books can quickly become an overwhelming task for tired parents. A simple search for "toddler toys" on Amazon instantly brings up thousands of results. Every listing claims to be educational, interactive, and "the best." To sift through the countless options, many parents have turned to Montessori at home toys. Although Maria Montessori lived more than a century ago, her teachings can help 21st-century parents choose high-quality toys.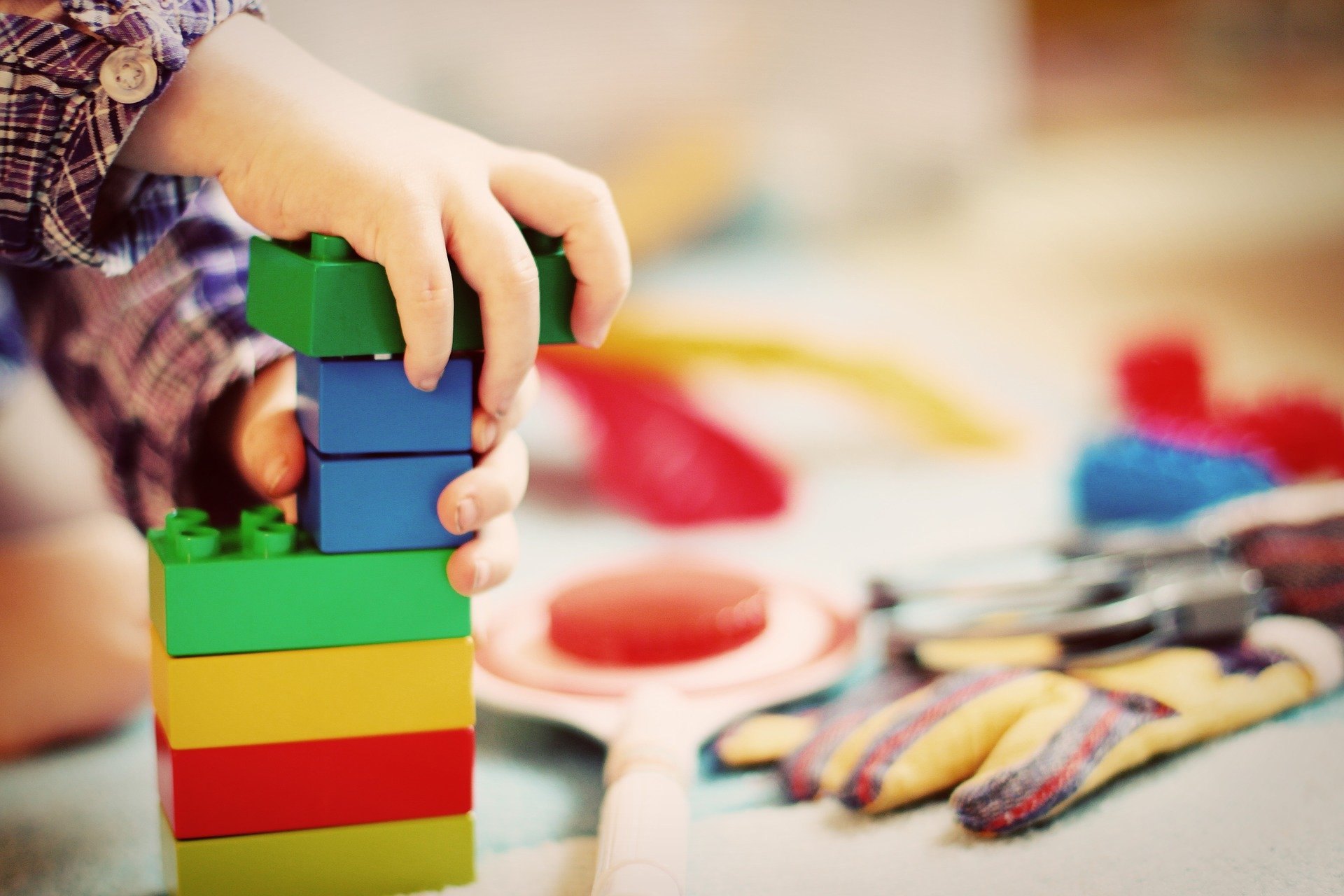 7 Simple Principles for Montessori at Home Toys
Below are a few terms and principles to keep in mind to find Montessori at home toys. These apply whether you're shopping for toys on Amazon, finding them at a thrift store, or making them yourself.
Isolation of a Difficulty
Look for toys that teach isolated skills. Popular toys on the market may simultaneously teach children stacking, the alphabet, and colors. Montessori toys focus on a single skill, like stacking. As the Association Montessori Internationale puts it, "a task should neither be so hard that it is overwhelming, nor so easy that it is boring." Isolating skills makes them less overwhelming for children to learn.
Control of Error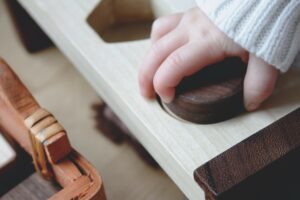 It's helpful when toys are self-correcting and allow children to independently assess their progress and errors without adult feedback. According to the American Montessori Society, "Putting control of the activity in the child's hands strengthens her self-esteem and self-motivation as well as her learning." Puzzles are a great example of this principle since pieces won't fit correctly in the wrong spot. Having said that, there is always room for open-ended play materials, like blocks or play scarves, in a Montessori home.
Natural Materials
Natural materials like wood and glass provide children with rich sensory experiences. They also teach about the real world with their weight, density, and texture. Additionally, wooden toys tend to be better for the environment and more beautiful than plastic ones. They are forced to be simple and thus encourage imaginative play. However, the use of plastic doesn't disqualify a toy from being a Montessori at home toy. Building toys like LEGO and magnet tiles are more suited to plastic. Plastic replicas of animals or vehicles can achieve more detail than wooden toys and thus be more realistic.
Passive vs. Active Toys
RIE founder Magda Gerber taught that "Active toys make passive babies; passive toys make active babies." This principle applies to children of all ages. Simple, passive toys like blocks and balls invite the child to play, discover, imagine, and explore. Battery-operated toys, on the other hand, are limited in how they can be used and make the child a passive participant in their play.
Movement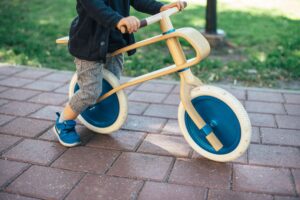 The word "Montessori" may make you think of quiet children peacefully completing shelf work. But movement and motion are integral parts of the method. Children have a physical need to move their bodies. In her book "The Absorbent Mind," Montessori wrote, "It is high time that movement came to be regarded from a new point of view in educational theory." ​​Jumping, running, balancing, and climbing help children learn. In addition to having materials children can work with on a shelf, also consider your child's gross motor needs and indoor play ideas while shopping for Montessori at home toys.
Reality-Based
While play kitchens and dress-up clothes are popular toys, Montessori recommended giving children real-life experiences instead of imitations of them. Instead of pretend kitchens, elaborate dollhouses, and lifelike animals, she wrote, "this method seeks to give all this to the child in reality––making him an actor in a living scene." If your child shows an interest in cooking, they may like to join you in the kitchen. If your child shows an interest in dressing dolls, they may like more autonomy in dressing themselves.
"Follow the Child"
At the end of the day, you could fill an entire playroom with beautiful, wooden Montessori toys and still not be following the Montessori method if the toys aren't suited to your child's needs. The most important Montessori principle to keep in mind is to "follow the child." Observing your child's growing skills and interests will help you find developmentally appropriate toys.
It Isn't All-Or-Nothing
While we've provided general guiding principles to help you find Montessori at home toys and materials, keep in mind that these aren't hard-and-fast rules you must follow to practice Montessori at home. If your child loves a plastic toy that fosters their focus and skills, it may do more harm than good to remove it from the environment. If a play kitchen is engaging and fun for your child, there are no Montessori police that will forbid you from using it.
Your home doesn't need to be a Montessori classroom, and applying Montessori at home isn't all-or-nothing. While Montessori principles can provide a great starting point and framework, it's ultimately up to each parent to fill their home with the materials that work best for their unique family, culture, and lifestyle.