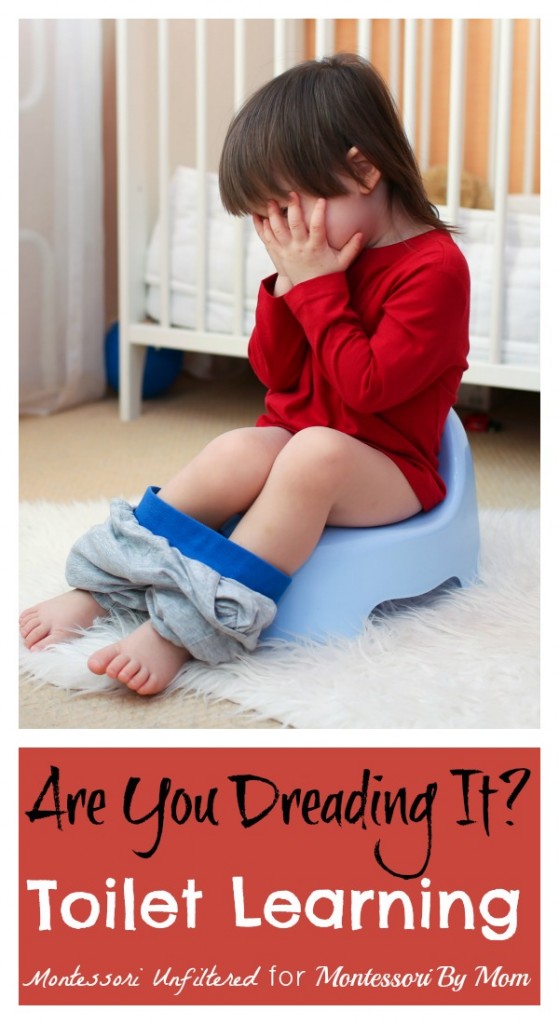 There's such a wide range of lingo surrounding toileting. Whether it's cloth, disposable, infant toileting, pullups or just letting them run around naked in the backyard. Everyone, I mean everyone, has an opinion on how children should reach this goal. Unlike walking or learning to tie their shoes, getting rid of diapers is one milestone most parents dread and I was one of them.
Before I started this toileting journey with my daughter, I knew I needed the right tools and information, so I went to my very own guru. One of my best friends completed her AMI Assistance to Infancy training and works with toddlers every day. She gave me some great advice and here are the high points:
 Look for cues of readiness
Keep my own emotions in check
Be consistent
Once we decide to start, there's no turning back
Remember, it's a process.
Use real language
She will get it eventually
I was petrified we'd miss the window of opportunity to start and so we began after she was showing me signs of readiness around 17 months. She had a lot of interest in the toilet, disliked when her diaper was wet or soiled, tugged on her diaper attempting to take it off and battled every diaper change. In retrospect, I wish we had waited a couple of months to let her verbal skills develop a little more. I think we would have still been within her window of interest.
Taking my friend's advice, I was now in it for the long haul. We went cold turkey to cloth underwear, had a small toilet in her bathroom and a toilet seat in ours. She wore cotton underwear at home and a brand called Best Bottom Trainers when we left the house. These allowed her to have the look of underwear, feel wet but prevented leaks when we were out and about. For the first week, I took her to the toilet every 20 minutes and had her sit. I never forced her and even had some books to look at while we waited. I had to keep my own emotions in check when time after time, she would sit on the toilet and produce nothing and then immediately urinate in her underwear. I stuck with the facts after it happened: "You peed in your underwear and now they're wet. Let's go to the bathroom and change your clothes." I kept all of my supplies (extra set of clothes, extra underwear, dirty hamper) in the bathroom for easy access when we went back to start the whole cycle over again. It wasn't until I had her walk around the house naked and she actually saw herself urinating that the connection was made between the urge to pee and action. This was a major turning point.
Consistency was key. Day in and day out I stuck with this process believing it was best for my daughter because it kept her involved in her toileting without any time constraints. Every time we left the house, she sat on the toilet. Upon arrival to where we were going, the first stop we made was the bathroom, even if it was just to check it out and let her know that this new place had one! Before heading back into the car, we always went again.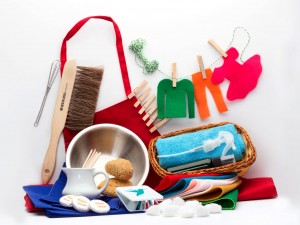 As a result of this method, I have a confident child who was consistently using the toilet and waking up dry in the morning by her second birthday. Was it time consuming? Yes. Will I do it all over again with my son? Absolutely.
Subscribe to Receive a Toolbox Each Month!
Focus on having fun and teaching your kids, not wasting time doing research and creating materials. Subscribers receive FREE shipping on a new Toolbox each Month.
Did We Mention Our Unconditional Guarantee?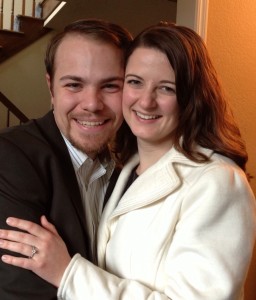 We don't think you will ever be dissatisfied with a Toolbox, but if you are, we have an unconditional money back guarantee. Unhappy with a Toolbox? Let us know within 14 days and we will give you a full refund, no questions asked. You have nothing to lose!
– Nathan & Teresa Hadsall