Free Weaving Mat Printable (Click to Open)
#learningthroughplay Weaving Activity inspired by our Kings, Queens, and Castles Toolbox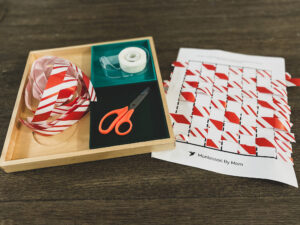 Material: Weaving mat printable from MBM at the link below, ½ inch to 1-inch x 9-inch strips of wrapping paper or construction paper, scissors, tape.
Prepare: Place all of your materials in a basket or tray. Note: If you wish them to practice their cutting skills, they may help you with preparing the weaving mat or strips of paper. 
Activity: Demonstrate how to weave a piece of paper, beginning with over, on the mat. Make sure to demonstrate how to move the weaved strip close to the top of the weaving mat. Begin with a 2nd piece showing how to alternate the next row starting with under this time – move the strip up the weaving mat. Invite your child to begin the activity. 
Tip! Taping down the mat to a work surface may help it from sliding around. This activity is an ideal way to encourage and develop your child's fine motor skills.